'A Thousand Cuts' wins News Emmy for Outstanding Social Issue Documentary
LBB> And for A Thousand Cuts – what different types of media and footage were you working with on this project?  Brandon> Verite style 4k footage made up the bulk of the media, along with an abundance of archival material. Ted> The archival clips were extremely important to the narrative of the film but many…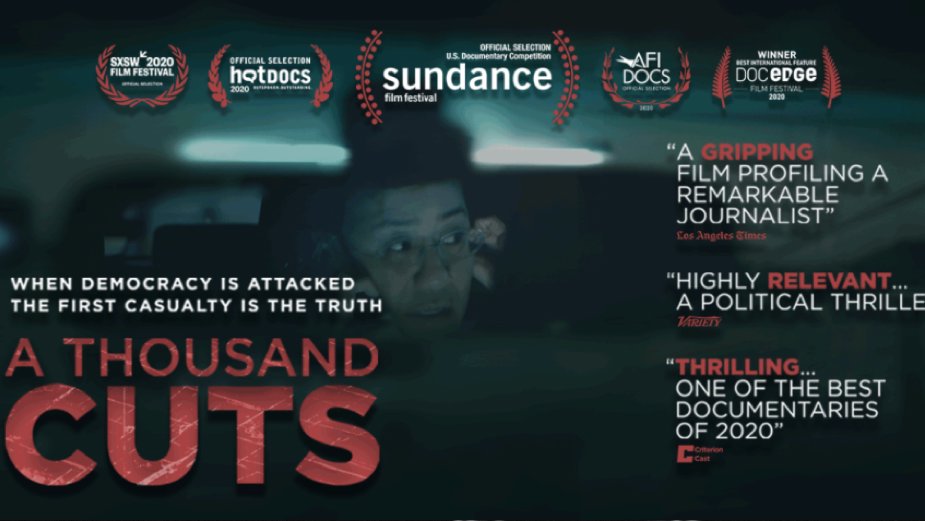 'A Thousand Cuts' wins News Emmy for Outstanding Social Issue Documentary
LBB> And for A Thousand Cuts – what different types of media and footage were you working with on this project? 
Brandon> Verite style 4k footage made up the bulk of the media, along with an abundance of archival material.
Ted> The archival clips were extremely important to the narrative of the film but many were only available at a very poor quality. In exploring different ways to try and improve what was available, we opted to run some clips through an AI scaling tool. It worked wonders; making what was otherwise digital blocks into a much cleaner movie file, resulting in a sequence that played nicely for the viewer and allowed the filmmakers to not sacrifice the narrative of that moment. That's part of the trick, making the sources we've been provided look as good as possible to help maintain or enhance the storytelling. Archival standards conversions sometimes have to be treated with the same care you might give a visual effect shot, and the new tools that are out there are making the process increasingly faster.
LBB> Brandon, how did you use colour and grade to ramp up the suspense of the shocking events that play out over the course of A Thousand Cuts?
Brandon> We used the environments to our advantage, playing into unsettling feelings that come from fluorescent lighting, or the darkness of dimly lit alleyways, trying to lean into the mood of the content whenever possible and embracing the discomfort of the situation.
LBB> Do you have a favourite shot or sound moment from Fathom and A Thousand Cuts?
Brad> I'm really excited about how the first five minutes of Fathom turned out – it's just so cool. For A Thousand Cuts, there's a very powerful scene where this reporter is talking about witnessing a murder. She's being interviewed, smoking a cigarette, out on the street at night in this alley. It's beautifully shot and framed, and when we started on the sound it was very busy, but by the end of the interview, we had taken all of the background noise out. We spent a lot of time on that scene because it was one of those moments we wanted to really hit hard, and it does.
LBB> How does it feel to be nominated for an Emmy?
Brad> It was such a pleasure to work on both Fathom and A Thousand Cuts. Drew was so much fun to work with on Fathom and we're all really excited about the end product. I feel like this is one of the films in my career where we got it to exactly where we wanted it to be. We tried everything we wanted to try, and even when things didn't work, it was cool to have been able to experiment – working with someone who wants to do that was amazing.
For A Thousand Cuts, Romona and Leah wanted an immersive mix to transport the audience to the raucous streets of Manilla. There are a lot of emotional moments in the film, and we used sound in subtle (and not so subtle) ways to help convey the passion of the Filipinos on the streets, and the danger that journalists speaking truth to power in the Philippines face.
Brandon> We've worked on projects that have had nominations before and those were great projects as well. Any recognition for the hard working filmmakers we collaborate with is special, it's always rewarding to help them get to the finish line and see their work reach an audience.
Ted> We are super happy for the filmmakers and their nominations, both films are deserving of the recognition. To be recognized specifically for our sound work on Fathom is very special and it speaks to the talent of our team and their relentless determination to heighten the filmmakers' vision through the artistry of their craft.